A Relaxing Place
Baths & Wellness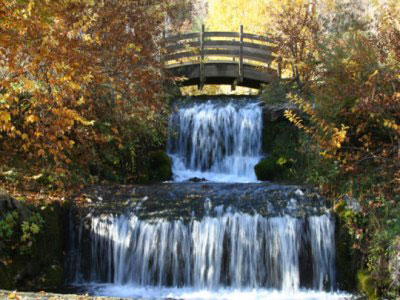 Baths of Canistro
The Baths of Canistro are located in the province of L'Aquila in Abruzzo in the Cotardo area at 750 m height. Roman spring the water that flows from the source of Santa Croce has a temperature of 9.5 ° C and is a cold oligomineral. It contains calcium, chlorine and magnesium, particularly indicated for diseases of the liver, digestive system, urinary tract, obesity, dermatological diseases and to keep the skin young.
The water is also bottled and sold as a drink for hydropinic cures.
The thermal structure surrounded by the forest is an ideal place for relaxation and to dedicate oneself to the care of one's body but also of the spirit. From the town of Canistro you can then make many interesting excursions in the area, nature trails such as the Sponga Park and the eastern part of the Simbruini mountains.
Many surrounding structures where you can stay that are affiliated with the Baths.
Baths of Popoli
The Terme di Popoli are located in the province of Pescara in Abruzzo in the town of Popoli with an altitude of 254 m above sea level. Medieval village rich in history and nature. The town is in fact surrounded by nature reserves such as the Gran Sasso National Park and the Valle del Pescara, and can boast of an enchanting territory loved by millions of tourists.
The spa structure was built recently, towards the end of the 90s, replacing the first 800 factory destroyed by the last world war. The thermal sources have water rich in sulfur, ideal for the treatment of many diseases: Cardiovascular system disorders; Skin imperfections, cellulitis, dermatological diseases; Gastro-intestinal / gastroenteric disorders; Muscular system disorders; Otorhinolaryngology disorders (ear, nose, throat); Skeletal disorders. In addition, the water from the Valle Reale spring is also bottled and sold, prescribed in cases of low-sodium food diets.
The Baths have an agreement with the National Health Service